Project FACET closes with training in Tetovo, RNM
Posted on |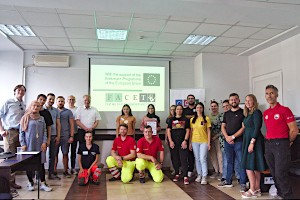 The Erasmus+ project First Aid, Civic Engagement, Training (FACET) held its last meeting from 16-20 August in Tetovo, North Macedonia. Due to time constraints caused by travel restrictions, the official closing of the project was combined with a train-the-trainer course into one event.
After a long Covid-related hiatus, the project FACET arranged for the second main pillar of the project to successfully take place in North Macedonia, on the premises of local project partner CDI. In the last years, FACET had exchanged best practices on first aid training amongst the project partners and had laid the groundwork for an international train-the-trainer course in first aid, allowing for CDI to include first aid into their volunteer training portfolio for the first time.
Four trainer-instructors from three project partner organisations (ANPAS, ASBÖ, LSB) made the practical preparations and conducted the course together. The course took place from 16-20 August. A total of ten participants took part. Originally, there were more interested candidates, but the inherently required previous experience for a train-the-trainer course meant that some people who were interested were medical or nursing staff from the local hospital. With the next Covid wave on the rise, it was not possible for them to get a full week's leave from their main job for their volunteering engagement.
The course was conducted under numerous precautions. Participants and trainers were vaccinated and the complete course was tested before it began and again halfway through the week. With these precautions, participants could safely learn about and practice first aid and how to teach it. The training included theoretical knowledge, demonstrations, practical exercises as well as written and practical, scenario based, tests.
At the end of the week, project partners from organisations that did not send trainers arrived for the official final event of the project. The session included a look back on 2 1/2 years of successful collaboration in FACET, a lot of interesting lessons learned from each other and a final look on the best practice brochure that the project group had developed.
The meeting concluded with session that collected ideas for follow-up ideas that had come up during the joint work. Next steps to take up these ideas have been planned and project dissemination at the partner organisations will continue.
The best practice brochure and more information can be found on the project website.