Preparations for 2nd SAM.I. Rescue Camp kicked off
Posted on |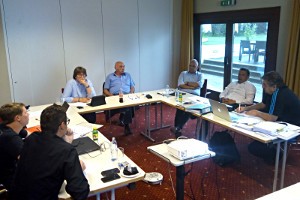 On 22 May, representatives of three SAM.I. organisations met to discuss the follow-up to the Rescue Camp that was held last year in Mörbisch am See, Austria.
The first SAM.I. Rescue Camp, hosted by ASB Austria and co-organised by ASB and White Cross, took place in May 2016 on the banks of Lake Neusiedl in Burgenland state of Austria. After the resounding success of the event and overall very positive feedback from the participants, it was decided to hold a second Rescue Camp, with ASBÖ and its Burgenland branch reprising their role as hosts.
As the Rescue Camp was an entirely new international event, the co-organisers had compiled an evaluation report in the aftermath of the event. Several lessons-learned and other potential improvements will guide the organising group in setting up the second interation of the outdoor exercise, where rescue service teams of professionals and professionally trained volunteers will have to go through several training scenarios. Just like at the first event, the performance of the teams will be evaluated by international jurors.
The second rescue camp will coincide with the Samaritan Forum 2019 from 14-18 August 2019, which will be hosted nearby, thereby complementing the programme of the international conference with a practical showcase of international Samaritan collaboration.