Contest
International First Aid Youth Competition
The Contest is more than just a competition!
"Of course, we are happy about a certificate – that means that we are good responders, "says Anna, 17, from Bavaria in Riga. 'It is really great, however, making new friends from other countries'. Kristaps, one of the Latvian volunteers, agreed: 'It was exiting to visualize injuries at the stations and to see how quickly the teams make the right decisions. But to have the time afterwards to talk to peers from Austria, Poland or Germany and to discover that we laugh at the same things, was really great.'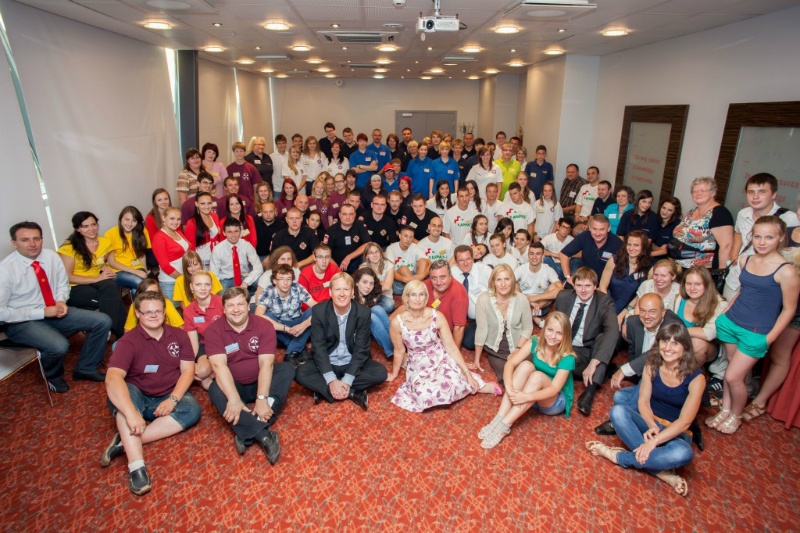 The international first aid youth competition "SAMARITAN Contest" is carried out every two years, hosted by one of SAM.I.'s member organizations in cooperation with the SAM.I. general secretariat.
The pilot event in 2006 in Essen, Germany, was so successful that the Contest has been regularly continued since then: in 2008 at Landesrettungsverein White Cross in Meran, South Tyrol, in 2010 at ASBÖ in Vienna, Austria, in 2012 at LSA in Riga, Latvia and in 2014 in Adria, Italy. While only six member organizations took part in the first contest in Essen, a total of 16 teams from 9 countries competed against each other at the last Contest.
Registration, contents of the competition and evaluation of the test are laid down in our implementation rules. The rules serve the purposes of directing and informing the organizational team and the participating referees, the SAMARITAN organizations and their participants and custodians. But enough room is left for the host associations to introduce themselves and their ideas.
Each team has to demonstrate its general knowledge and its first aid skills in written tests. During dexterity games concentration, speed and accuracy are required. No limits are set to imagination during the set-up of the stations and the preparation of the dexterity tasks. As first aid has indeed much to do with knowledge, but even more with exercise, the young first aiders have to fulfil emergency care tasks at different demanding first aid stations. The evaluation of the written and practical tasks is carried out by experienced instructors. Highlight of each contest is the awards ceremony and the big closing party.
The most recent SAMARITAN Contest was hosted by ANPAS, Italy. The upcoming Contest 2016 will be taking place in Slovakia and Poland, hosted by ASSR and SFOP.