Samaritan Contest 2020 – Team Registration officially open
Posted on |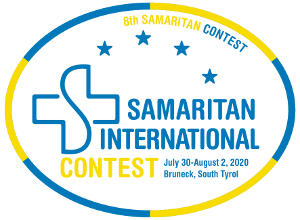 The Samaritan Contest 2020 will take place from 30 July to 2 August 2020 in Bruneck, South Tyrol Italy. Registration is open until 31 May.
The Samaritan Contest, which takes place for the 8th time this year, will be hosted by South Tyrolean member organisation White Cross. The location of the Contest is the town of Bruneck in the Puster valley
The ruleset remains similar to the previous years, with mostly minor changes to optimise fairness and a level playing field in terms of instruction language.
One major change has been made though: The maximum age for the older Group B is now 21 years! The full rules for 2020 can be downloaded here. Group custodians will also receive the first aid guidelines in preparation for the Contest in due time after the registration of their teams.
Youth coordinators are asked to register their teams via our online form. Please take care to keep the confirmation mail. It contains a link which can be used to make changes before the deadline (travel info, substitution of team members etc.).
Please note that the registration is only open to teams right now! A separate registration for individuals wishing to travel to the Contest (spectators, guests, directors of SAM.I. organisations etc.) will be opened soon.
More information will follow. As a pointer for early travel plans, please know that the train station of Bruneck is within walking distance of the team hostel.