SAM.I Project TECS – Two successful first meetings
Posted on |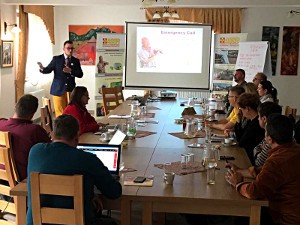 In summer 2019, SAM.I was awarded the project contract for a new Erasmus+ project for the exchange of best practices in the field of care and nursing education. The project TECS (Training and Further Education in Care and Social Services) involves 10 member organisations of SAM.I from Germany, Austria, Lithuania, Latvia, Serbia, North Macedonia, Slovakia, Poland, Georgia and Ukraine.
The first meeting took place in October 2019 at ASSR in Stara Lubovna in Slovakia. Here the project participants had the opportunity to experience first hand the ASSR home emergency call system and the training of the staff.
The second project meeting took place in December 2019 in Stegersbach in Austria. There the project participants had the opportunity to visit three different nursing homes in the region and learn a lot about the innovative concepts they apply there.
During the three-day project meetings, the participants also had many opportunities to exchange information and make new contacts. All participants are therefore looking forward to the next meeting, which will take place in Tetovo, North Macedonia, at the beginning of April 2020.