Open letter to EU – SAM.I. encourages vaccinations and normalisation of cross-border exchange
Posted on |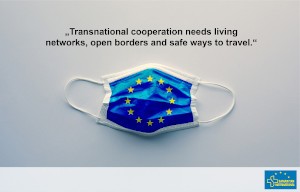 Transnational cooperation needs living networks, open borders, and safe ways to travel. This is why SAMARITAN INTERNATIONAL sent an open letter today to European Commission President von der Leyen, Council President Michel and MEPs from the European Parliament's ENVI committee, to express our support for all measures that re-enable safe travel within the EU and foster inner-European exchange.
As a network of organisations that work in civil protection, aid, and welfare, our members' staff and volunteers have been working on the front lines of the crisis for the past few months.
The professional exchange between them has met serious challenges in the past few months, due to the understandable and reasonable restrictions on travel that are currently in place. With vaccination campaigns beginning all over Europe, we are looking to bring our cross-border cooperation back to full strength, to revigorate our mutual support and to continue to learn from each other. This is an important contribution to continuously improving many valuable and crucual services that people in need all over Europe rely on.
Therefore, we are supporting a normalisation of travel as soon as it is safe – including timely lifting of travel restrictions for those who can prove that they are not an infection risk. This is why we have expressed our support for continued and quick vaccination campaigns and for the planned European vaccination certificate, that may expedite the re-establishment of free movement within the EU.
You can find the letter as addressed to President von der Leyen here.