MOSAIC: New project on first aid for people with disabilities
Posted on |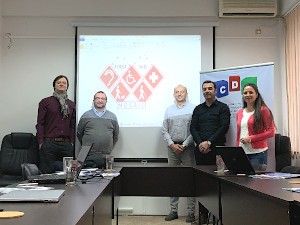 The project partners of the project "MOSAIC – equal possibilities for all" held the first kick-off meeting on 9 March 2020 in Tetovo, North Macedonia.The project is supported by the Erasmus+ program of the European Commission.
MOSAIC is implemented by a consortium of 3 partners – SAM.I. member Community Development Institute (CDI), the Hospital of the City of Tetovo and SAM.I. itself – which will be contributing expertise via experts from its member organisations from Denmark and Germany (Hamburg branch).
The project is focusing on improvement of the first aid service for people with disabilities by designing open educational resources.
At the meeting, the project partners were welcomed by the host and leading partner CDI, then reviewed the envisioned project activities, intellectual outputs and expected results. The next activity of the project will be the collection of best practices in first aid for people with disabilities, as a basis for the work on the project's defined outputs.