Meeting project DIGIFIRSTAID: e-learning practices in first aid from Italy
Posted on |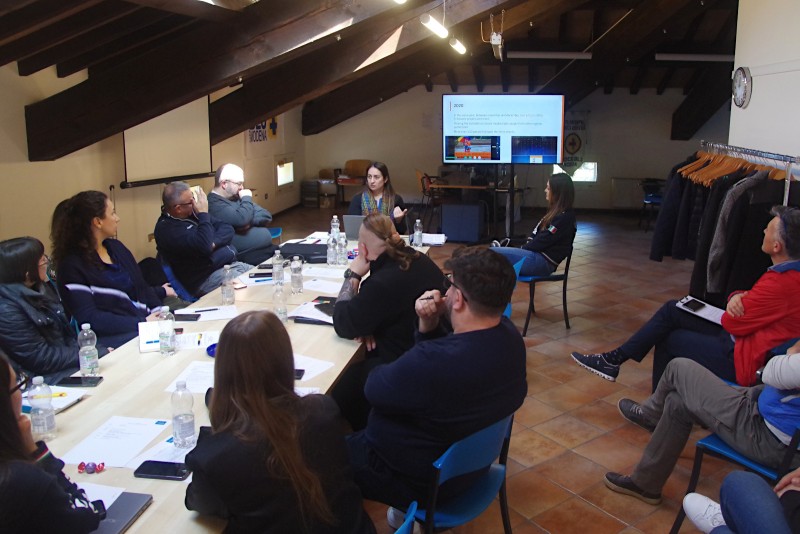 From 17-19 March, the project group of DIGIFIRSTAID, an Erasmus+ partnership, met in Modena, Italy, on the premises of the local ANPAS association. DIGIFIRSTAID is a best practice exchange on introducing digital elements into first aid training and the Italian colleagues presented multiple digital teaching and training efforts from first aid and associated fields.
The ANPAS national association maintains a centralized e-learning system based on an instance of Moodle. This is an established tool that is used for national trainings in civil protection and some other educational units relevant for all volunteers of the ANPAS national network. This system has been in production use since a few years and complements the practical lessons that volunteers receive depending on their role.
Three regional practices
Local volunteers presented three regional digitalization practices.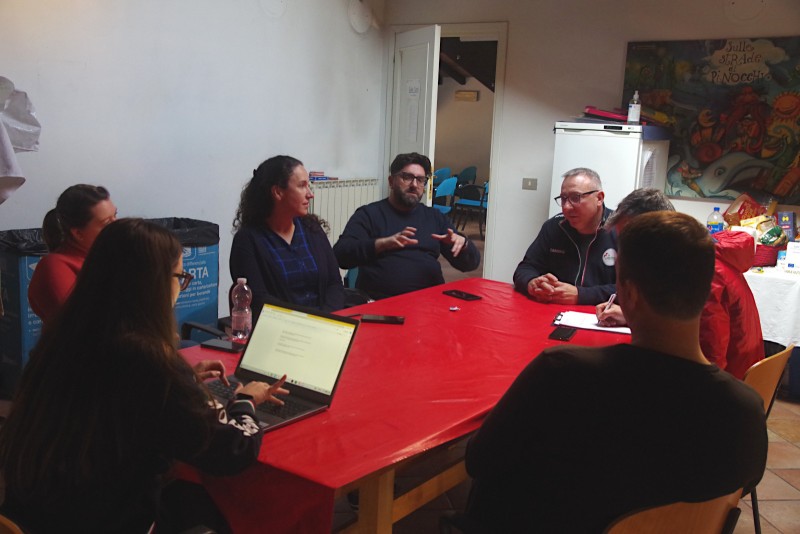 First of all was the sudden need to keep up some basic training capacities during the Covid-19 pandemic, which were handled pragmatically and in an ad-hoc way, making use of exceptions in training regulations opened by the pandemic. Theoretical training for BLSD (basic life support/defibrillator) courses was conducted online via slides, self-study of narrated videos or Zoom video calls, with only a small portion of the training done in presence in small groups of 3-4 people and outdoors, whenever possible. The same system was used to train patient transport drivers, which were in high demand during the pandemic while, at the same time, many older volunteers quit their engagement for fear of infection.
At the same time, ANPAS Emilia Romagna and other partners started an initiative for a proper online training platform. The project was supported by the regional government and is kept up with regional funds to this day. The project not only established and maintained a Moodle instance for emergency service trainings, but also created concepts and curricula adapted to fit the blended learning context. A large part of the budget was spend creating materials, such as professionally narrated educational videos. The platform went into service in May 2022 and was used by 5.000 volunteers over the course of the year.
A third practice was the experience of a safety awareness project for parents of young children, "Sapere è salute". The initiative that started as an awareness campaign for serious allergic reactions in children had established itself as a general course provider for prevention and management of pediatric accidents, with volunteers holding the courses on-site upon request. During the Covid-19-pandemic, the events were done completely online. The experience showed many advantages for this sort of emergency/educational work, with several hundred people taking part in the courses during the pandemic. For many people, the online course was the first opportunity to attend, as on-site events can be a challenge for the main target group – parents of young children, who usually would have had to organize childcare for the time. The experience also showed that some typical downsides of online-only teaching could not be avoided, such as uncertainty of actual attention. Also, while a lot of the course is presented information, the included first aid measures are usually practiced as well, which, in this case, was completely omitted in the online version.
Next steps of DIGIFIRSTAID
The practices were met with great interest by the participants from the other organizations, who had a discussion on what would be of interest to transfer to their home organizations and what obstacles and challenges would have to be addressed.
A more detailed practice report by ANPAS is forthcoming and will be found, together with additional information on the project, on the DIGIFIRSTAID website.
The project will meet again in May in Bolzano, Italy, hosted by project partner White Cross.