Competence Centre First Aid plans Restart-a-Heart-Day activity in Brussels
Posted on |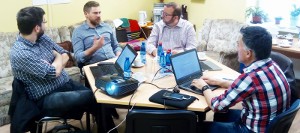 The SAM.I. Competence Centre First Aid met in Kaunas, Lithuania from 13-14 July 2018. The central point on the agenda was the preparation of a repetition of 2016's successful first aid event in Brussels, on the occasion of "Restart-a-Heart-Day" 2018.
The Kaunas branch of LSB reprised their role as host of the meeting. The participants discussed new information on efforts by other stakeholders to achieve recognition of First Aid courses among EU member states and also spoke about the Samaritan Contest 2018, scheduled for August 24-27.
However, the central issue was the planned event in Brussels. Similar to 2016, the group plans to hold first aid courses for Members of the European Parliament and other relevant Brussels-based stakeholders. To accommodate the fact, that the schedules of the target group can be expected to be busy, the CC First Aid has developed short course forms just for this occastion, concentrating on the most important first aid measures such as CPR or AED usage. Conciding with the ERC-promoted "Restart-a-Heart-Day", the first aid experts of the SAM.I. member organisations want to demonstrate that some basic first aid measures are easy to learn for everyone.
By giving the courses, based on a common curriculum, via an international team of trainers, they also would like to set a reminder that, while quality first aid education can nowadays be received in all EU member states, recognition is still an unnecessarily complicated case-by-case procedure. The SAM.I. members promote that a recognition mechanism using the pre-existing European Qualifications Framework be explored by decision-makers on the European and respective national levels and have put down this proposal in a recommendation paper that was published in 2016.
More information on the event is available here.