Volunteer Work
The advancement of volunteer work is an issue that concerns all member organisations of SAMARITAN INTERNATIONAL.
With a total of over 130,000 volunteers all over Europe, who engage in various areas from paramedical and rescue services over civil protection to other social services, a substantial part of the Samaritan organisations' work relies on the civic commitment of volunteers. These volunteers don't only have to be recruited, they also need to be motivated. Besides a culture of appreciation, one important step toward achieving this is the creation of facilitating political framework conditions, that enable the citizens' commitment.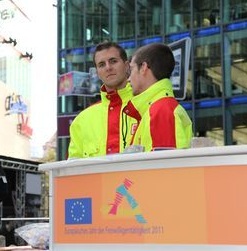 An example: A voluntary firefighter, who handles an emergency late at night, needs legal certainty if he cannot be at his workplace on time the next morning due to his civic commitment.
To enable volunteering in these and other charitable activities, SAMARITAN INTERNATIONAL advocates for favourable framework conditions on the European level. For this, we were also present in the Alliance for the European Year of Volunteering 2011 and contributed to the resulting Policy Agenda on Volunteering in Europe (P.A.V.E.).
For current updates on our advocacy work, please see our EU news. For information on the activities of our members, many of which are concerned with volunteering, please see our member news.