SAM In – Samariter Interkulturell
SAM IN is a low-threshold out of school education project which aims to give young people with and without a migration background the opportunity to get to know the work in a rescue organization and the Samaritan youth work. The Project period was January to November 2013. SAM In was initiated by the Arbeiter-Samariter-Bund Landesverband Berlin e.V. and implemented together with the German-Arab centre in Neukölln (EJF gAG) and ASB RV Berlin Süd e.V. The project is supported by the BMFSFJ (Federal Ministry for Family Affairs, Senior Citizens, Women and Youth) Innovation fund.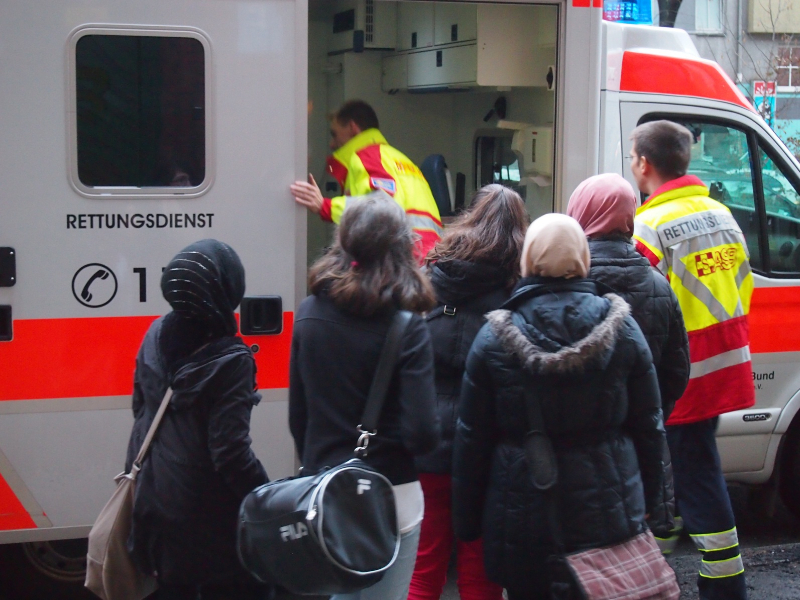 SAM IN shows young people how and in which areas they can volunteer and develops apart from that a new approach to include intercultural aspects in first aid and civil protection.
Young people with intercultural competences and youth from all backgrounds between 14 and 18 looking for a long-term commitment as helpers are offered weekly first aid workshops and if requested further education courses. Within the programme, they can develop new intercultural first aid programmes and learn how to present their results to other youth groups in Germany.
Project goal
The goal of the project is the networking of young people from different contexts of the association in an atmosphere of mutual respect.
On the basis of the joint development of a cultural sensitive first aid module the young people get an insight into rescue service and the activities of a welfare organization and are able to share their experiences.
Thus, SAM IN contributes to the participation of people with and without a migration background in education and to strengthening volunteering and intercultural dialogue.
The project results will be shared, discussed and developed by SAM IN with associations at the federal level.
Project coordination: Johanna Grabowski
j.grabowski@asb-berlin.de
Arbeiter-Samariter-Bund Landesverband Berlin e.V.
Projekt SAM In
Rudolfstraße. 9
10245 Berlin
http://www.asb-berlin.de/angebote/sam_in_samariter_interkulturell.html