SAM.I. welcomes launch of the EU Digital Covid Certificate
Posted on |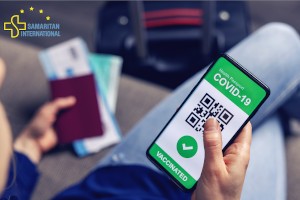 The network had already expressed its support for such an instrument early in 2021.
With the EU Certificate, that officially launches today, the member organisations safely can again take up most of their practical collaboration that is happening in various projects. Much work has been done via teleconferencing solutions, but practical insights on-site will never be replaceable for all aspects of our work.
With good reason are practical exercises and hands-on training listed as absolutely obligatory in any high-quality first aid course. Also, in areas such as care and social services, where the project TECS is ongoing, a practical visit to a facility to have an exchange of best practices can hardly be replaced by a digital presentation about the same practices. European collaboration and joint improvement in these areas ultimately benefit individual citizens who will be able to rely on increasingly better services.
"We are glad to see that a universally recognised European solution that effectively removes Covid-related restrictions on free movement has been found and implemented" says Ivo Bonamico, Secretary General of SAM.I.
"A living network of European Civil Society Organisations can only be fully effective if we are able to bring the people, the volunteers and staffers, together in person. Online conferences have served us well, but new ideas and open exchanges require personal meeting formats."
Already in January 2021, the SAM.I. network addressed an open letter to the President of the European Commission von der Leyen, President of the European Council Michel as well as to MEPs from the European Parliaments committee for health policy explaining the importance of free travel for our work.